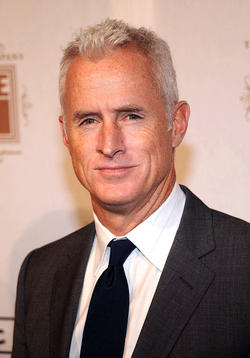 Biography
John Slattery (born 13 August 1962) is an American actor and stars in Mad Men as Roger Sterling. John also directed the season 4 episode, "The Rejected".
Early Life
Johnathan M. Slattery, Jr.; was born in Boston, Massachsetts. He was born to Joan Mulhren and John "Jack' Slattery, Sr. He has said that he grew up on both TV and movies. Staying up rather late to watch them, causing it rather hard to be woken up in the morning. He is of Irish descent and was raised Roman Catholic. He attended The Catholic University of America.
Career
He is also known for roles such as union organizer Al Kahn on Homefront; Senator Walter Mondale in the HBO miniseries From the Earth to the Moon; guest appearances as Sam Truman, Will's brother, on Will & Grace; guest appearances as Michael Cassidy, Amy's estranged husband, on Judging Amy; guest appearances as urine fetish politician Bill Kelley on Sex and the City; principal Dennis Martino on Ed; and college president Peter Benedict on Jack and Bobby. In March 2007, he began a series of appearances on Desperate Housewives portraying a suitor to Gabrielle Solis (Eva Longoria Parker), later to be her husband, until his character's death in Season 4.
Slattery played Paul Moore, boyfriend of Katherine Watson (portrayed by Julia Roberts) in the film Mona Lisa Smile. He portrayed "Howie" in David Lindsay-Abaire's Pulitzer Prize winning play, Rabbit Hole. He also appeared as a government promoter in the Clint Eastwood feature Flags of our Fathers and as Henry Cravely, a CIA official, in Charlie Wilson's War. He was cast as Bert Miller in the sequel to "Dirty Dancing" in "Dirty Dancing: Havana Nights" who was the father of the leading female in the movie. Slattery recently appeared on the Colbert Report in a faux commercial advertising gold; in a "vintage" movie clip as Tony Stark's father in the recent blockbuster sequel Iron Man 2; and as "disgraced anesthesiologist" Dr. Norman in Arrested Development.
External Links
Community content is available under
CC-BY-SA
unless otherwise noted.