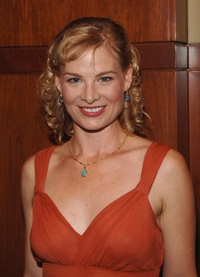 Melinda Page Hamilton (Born 22 August 1974) is an American actress. Hamilton played a supporting role in the 2004 film, Promised Land, and the leading role in the 2006 film Sleeping Dogs Lie. She is a frequent guest star on several television programs, including Star Trek: Enterprise, CSI: NY, CSI: Miami, Everwood, Nip/Tuck and NUMB3RS. Hamilton had a recurring role on the ABC dramatic television series Desperate Housewives as Sister Mary Bernard, a nun trying to pursue married man Carlos Solis.
Melinda Page Hamilton also plays a recurring role on the AMC television show, "Mad Men" as Anna Draper, polio survivor and wife of the "real" Lieutenant Don Draper , who is deceased.
Appearances
External Links
Community content is available under
CC-BY-SA
unless otherwise noted.