Jurassic World: Dominion Dominates Fandom Wikis - The Loop
Play Sound
Biography
Mona Sterling is the ex-wife of current Sterling Cooper Draper Pryce partner Roger Sterling. First Appearing in Season One's The Ladies' Room, it is revealed Mona grew up in wealth.
Marriage to Roger Sterling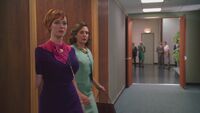 She was introduced to Roger Sterling by the late Mrs. Cooper, deceased wife of Sterling Cooper co-founder Bertram Cooper. During the marriage Mona concieved and gave birth to their only child Margaret Sterling. Even though Mona and Roger have been married a long time, it is revealed in Season one that he has been having a lengthy-extra-marital-affair with Joan Holloway. Whether Mona is aware of this conquest (or any of his other conquests) are unknown, as shown in the episode Babylon when Mona decides to bring Margaret into the office and Joan arranges for them to spend the day out getting haircuts. Throughout the First Season, Roger often complained about the marital problems between the couple, usually placing blame on Margaret, and her refusal to eat. Her devotion to Roger is shown during "The Long Weekend" where she remains at his side after he has suffered a heart attack (ironically brought about through sexual foreplay with another woman). Mona continues to care for him upon Roger's brief return to Sterling Cooper where he suffers a second heart attack, an event which puts her at odds with Bert Cooper.
Early in the Second Season, however, Mona recounts her wedding night with eloquent passion and reaffirms her love for Roger, placing his claims in doubt.
Always the wandering eyed phillanderer, Roger wraps up the show's Second Season by beginning an affair with Don Draper's new secretary Jane Siegel. During a moment of candid, alcohol fueled conversation, Don offers Roger life advice, which Roger interprets to mean he should leave his wife and find happiness. The following morning, an irate Mona confronts Don, believing he encouraged Roger to break up the marriage.
Although, even after Roger and Mona divorce they still remain friends, for Margaret's sake and can also get along quite well, even after Roger divorces Jane - he confides in Mona, and even asks her to use her business ties to get him a meeting with Ed Baxter the CEO of Corning.
Motherhood
Mona mothered only one child with Roger, it is seen in many episodes throughout Mad Men's run that Mona is a devoted mother. Even when things seemed tempestuous, what-with Jane trying to befriend Margaret, much to Margaret's dismay to the point where Margaret didn't want Jane at her wedding - Mona still enforced that she is Rogers wife. Roger also went as far as dedicating is speech to Mona at Margaret's wedding, calling her a lioness.
Trivia