Doctor Strange in The Multiverse o Madness - The Loop
Play Sound
New Business

Production
Season 7 Episode 9
Air date
12 April 2015
Written by
Tom Smuts
Matthew Weiner
Directed by
Michael Uppendahl

---

Previous
Severance
Next
The Forecast
Synopsis
Don Draper and Megan get divorced, but not before Megan's mother takes all the furniture from their apartment. When the mover demands additional payments from Marie (due to moving so much more than Megan had told him to), she is at a loss, having no money. In desperation, she calls Roger to pay, and the two then resume their affair. As they are getting dressed, Megan sees them together, to Marie's distress.
A distraught Megan then goes to see Don at the lawyer's office and angrily blames Don for ruining her life. Don then writes Megan a check for $1,000,000 dollars because he "wants her to have the life she deserves" and "[doesn't] want to fight anymore".
Megan sets up a lunch with Harry, who she hopes will help her to find a new agent and book new jobs. Harry demands she have sex with him in exchange for his help, and Megan angrily storms out.
Don sleeps with Diana again, and she reveals she ran away from her husband and daughter when her other daughter died two years prior.
Roger struggles with managerial work.
Peggy is impressed with a well-known photographer, but Stan is not. The photographer seduces Stan, who then changes his mind about her. She also flirts with Peggy, who sees through her and identifies that she is using flattery to manipulate Peggy.
Trivia
The 1,000,000 dollar check Don writes for Megan in 1970, is worth the equivalent of almost 6,500,000 dollars in 2018.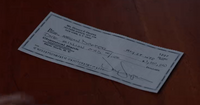 Cast
Co-Star