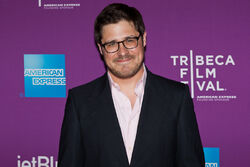 Biography
Richard Olen Sommer II (born February 2, 1978) is an American actor and stars in Mad Men as Harry Crane.
His best known film role was as Anne Hathaway's friend Doug in the 2006 film "The Devil Wears Prada". He has appeared in commercials for companies such as Nextel, Sprint and Bud Light. In 2007, he appeared in an episode of Law & Order. Sommer has a regular supporting role on AMC's television series Mad Men, as Harry Crane, a media buyer who becomes head of the television department in a 1960s Madison Avenue ad agency. He can be seen in ImprovEverywhere's viral video "Frozen Grand Central". On September 25, 2008, Sommer appeared as a guest star on the television series The Office.
External Links
Community content is available under
CC-BY-SA
unless otherwise noted.