Cobra Kai Season 4 - The Loop
Play Sound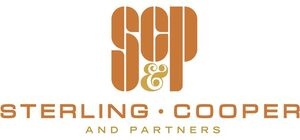 Overview
Sterling Cooper & Partners is an advertising agency in New York City created from the 1968 merger of Sterling Cooper Draper Pryce and Cutler, Gleason, and Chaough. In 1969 it became an independent subsidiary of McCann Erickson.
In 1968, rival agencies Sterling Cooper Draper Pryce and Cutler, Gleason, and Chaough were invited to pitch for the new Chevrolet account. With both creative directors realizing that their respective agencies were not powerful enough to win over Chevrolet, Don Draper and Ted Chaough came up with the idea to merge their agencies together. After the pitch was a success, Peggy Olson was told by the creative directors to write the press release of the merger.
The companies move into the offices of Sterling Cooper Draper Pryce and the partners immediately clash over the name of the company. They finally settle on Sterling Cooper & Partners.
Shortly after the merger, senior partner Frank Gleason succumbs to cancer.
By Thanksgiving of that year the agency had begun opening a West Coast office in Los Angeles. At the same time Don Draper's erratic behavior forced the other partners to place him on a leave of absence. They hire Lou Avery to oversee the Creative Department as Ted Chaough and Pete Campbell are to leave for the West Coast.
In 1969, an offer has been made to Harry Crane for a partnership, he however holds off to negotiate a better deal. Roger Sterling offers Don Draper a place back at the agency but the partners stipulate that he will work as a copywriter under Avery and Olson with certain rules on his behavior. Avery and Jim Cutler conspire to have Draper fired but are narrowly blocked by the partners.
During the moon landing, senior partner Bertram Cooper passes away, which causes the votes to turn from Draper's favor. To fight this, Roger Sterling makes a deal with McCann Erickson to sell 51% of the company as an independent subsidiary. The partners approve the sale unanimously and Harry Crane is prevented from attaining his partnership.
Partners
Senior
Junior
Employees
Staff
Secretaries
Former Staff
Gallery