Intro
Peggy plans for the future. Roger courts a potential client.
Synopsis
Bobby starts to peel wallpaper off his wall when he notices it doesn't properly line up. Peggy attempts to purchase an apartment but is hesistant about it's location. Her boyfriend seems uninterested in the entire process. At the New York Advertising Club's annual awards banquet, the festivities are overshadowed by news of Martin Luther King, Jr.'s assassination, which sends the city into a panic. Pete calls Trudy and offers to stay at her house, but she refuses. Henry travels to city hall to manage the crisis. 
The next day at work, Pete and Harry argue about make-goods from last night's pre-empted TV shows. Don meets with a bizarre property insurance businessman who pitches a bizarre campaign involving a molotov cocktail and then he claims he was visited by the ghost of Martin Luther King, Jr. and then proceeds to speaks in a Native American language. Ginsberg's father sets him up on a sudden date with a pretty girl to whom he admits that he's never had intercourse. Don is called by Betty who demands he pick up the kids, but Don must drive through Harlem at night to get them back to his apartment.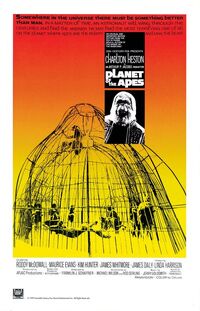 The next day, Megan takes Sally to a vigil in the park and Don takes Bobby, who is grounded from TV to see Planet of the Apes in the movie theatre/theater where Bobby tries to say a word of encouragement to a black theatre/theater attendant. That evening, Megan tells Don she's disappointed that she can't read Don's emotions about King's death. Don tells her that he faked loving his children for their entire lives, but he recently had a true, real moment of affection toward one of them. Don then consoles Bobby to sleep, who is worried that Henry might be killed, then walks onto his balcony and watches the city at night.
Cast
Main Star
Guest Star
Teyonah Parris as Dawn
Charlie Hofheimer as Abe Drexler
Brian Markinson as Arnold Rosen
Linda Cardellini as Sylvia Rosen
Lennon Parham as Ginny Hunt
Nicole Hayden as Beverly Farber
Yaani King as Phyllis
William Mapother as Randall Walsh
Stephen Mendel as Morris Ginsberg
Alison Brie as Trudy Campbell
Ross Marquand as Paul Newman