Cobra Kai Season 4 - The Loop
Play Sound
Intro
In the season finale, opportunity is in the air for everyone and Pete meets a stranger on the train.
Synopsis
Sterling Cooper Draper Pryce is doing good business and has posted their best quarter of all time, but things aren't the same around the office without Lane. The company has received a significant death benefit from Lane's death, 175,000 dollars, and have all of their clients back at top billings, with more clients than ever. Joan Holloway confesses to Don Draper that she thinks if she had let Lane Pryce have what he wanted from her, he might still be alive, but Don calms her concerns. Don has a 50,000 dollar check cut to repay Lane's collateral investment in the firm and takes it to Lane's wife, Rebecca Pryce, who then chastises Don and the firm for allowing Lane to be consumed by the firm's potential for success and corrupting him. Rebecca Pryce is haunted by the photograph she found in Lane's wallet, and points out the money already belonged to Lane, so the company didn't do her any favors.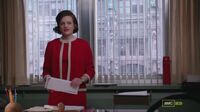 Megan Calvet paid for a screen test reel but it was a scam to sell acting lessons, and still hasn't landed an agent or a role. Another actress friend asks Megan to ask Don to give her a chance at a nationwide commercial for Butler shoes, but Megan instead asks Don for herself. Don refuses, and disparages her lack of artistic merit. Megan's mother is staying with the Drapers for Easter and ends up sleeping with Roger after he calls her at the Draper apartment.
Megan spirals into a funk over her failures as an actress. Her mother points out Megan is chasing the phantom of a career and artistic abilities she does not have. Marie tells Don that if he nurses Megan through this, she will give up her actor dreams and become the wife he wanted.
Peggy Olson seems to be stressed with her new job. Incompetent copywriters and a pushy boss don't make her life easy when she's put in charge of a soon-to-be-released new line of cigarettes aimed at women.
Pete Campbell runs into Beth Dawes, the wife of his commuter friend. She calls him and arranges a rendezvous at a hotel. She tells him she has been checked into the hospital for significant depression, and will soon undergo electro-shock therapy. Beth is seeking a pleasant memory to take with her to treatment, since she is usually different after. Beth and Pete sleep together. Pete attempts to convince Beth she is healthy and alright, and to run off to California with him. Pete imagines Beth's husband is a controlling monster, keeping the two apart, and that both will be happy once they are together and in love. Realizing Pete does not understand her, Beth leaves for treatment. When Pete checks in with her the next day, she has undergone her treatment, and does not remember him. Pete gets into a fisticuffs fight on the train with Beth's husband, and lies to Trudy that he fell asleep at the wheel to explain his bruises. Trudy agrees to allow Pete to purchase a city apartment.
Meanwhile, Don has been suffering a persistent tooth-ache and resists going to the dentist. He keeps catching phantom images of Adam Whitman, the ghost of his half brother who hanged himself after Don ignored his cries for help. He finally buckles and has the tooth extracted; while he is under he has more visions of his brother. After his procedure Don runs into Peggy at a movie theater and Don tells Peggy he is proud of her.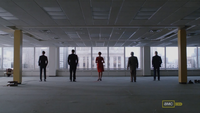 The SCDP Partners agree to expand the offices onto the 38th floor as their business continues to grow. Don watches Megan's audition reel alone and later pulls strings and gets her the role in the commercial. Don walks away from the once-again ecstatic Megan into the darkness. During the filming, he sits at a bar and is approached by a beautiful woman who asks "are you alone?" The viewers never see Don's response.
Cast
Main Star
Guest Star
Lou Richards as Charles Butler Jr.
Jon Manfrellotti as Art Garten
Jay Seals as Marvin Woodman
Emily Foxler as Emily
Co-Star
Geoffrey Wade as Leonard
Mary-Kathleen Gordon as Nurse
Madeleine Hamer as Blonde