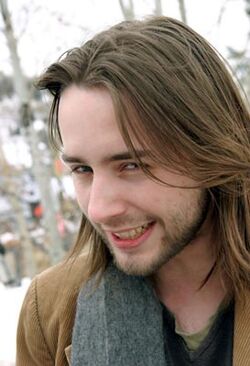 Vincent Kartheiser (born May 5, 1979) is an American actor and stars in Mad Men as Pete Campbell.
Career
Kartheiser made his screen debut with a bit role in the 1993 film Untamed Heart, opposite Marisa Tomei and Christian Slater. Kartheiser found himself cast in mostly family fare, including The Indian in the Cupboard and most notably the action-adventure drama Alaska, in which he starred opposite Thora Birch and Charlton Heston, whose son, Fraser Clarke Heston, directed the film. The film led to Kartheiser getting the lead role in Masterminds, playing opposite Patrick Stewart.
Kartheiser next portrayed Bobby, a drug-addicted, homeless street urchin in Larry Clark's Another Day in Paradise. Among his castmates were James Woods and Melanie Griffith. He also had two explicit sex scenes with Natasha Gregson, one of which was cut from the film in order to avoid an NC-17 rating. The film earned the young actor significant accolades, and he went on to appear in Strike! (later retitled All I Wanna Do), opposite Kirsten Dunst, Gaby Hoffmann, and Monica Keena, the last of whom co-starred with him again in his next project, Crime and Punishment in Suburbia.
Screened at the 2000 Sundance Film Festival, Crime and Punishment in Suburbia was a moody, updated take on Dostoyevsky's Crime and Punishment, set in a modern high school. Kartheiser later landed a regular role on the supernatural drama series Angel in 2002. He played Connor, the son of two vampires, Darla (Julie Benz) and the titular Angel (David Boreanaz). Upon returning to Los Angeles, Connor's gradually unraveling mental state was among the main focuses of Season 4; he would make 2 more appearances during its final season.
Returning to film work, Kartheiser starred in the well-received coming-of-age drama Dandelion, which was shown at the 2004 Sundance Film Festival.
Since its 2007 debut, he has played the role of ambitious young ad man Pete Campbell in the television series Mad Men, on AMC.
Along with the rest of the cast of Mad Men, Kartheiser won the Screen Actors Guild Award for Outstanding Performance by an Ensemble in a Drama Series in 2009.
Kartheiser completed filming his role as Fielding in the BBC's two-part adaptation of Martin Amis' novel Money in the winter of 2009. The adaptation stars Nick Frost and began airing on BBC Two on the 23rd of May, 2010.
Gallery
External Links
Community content is available under
CC-BY-SA
unless otherwise noted.